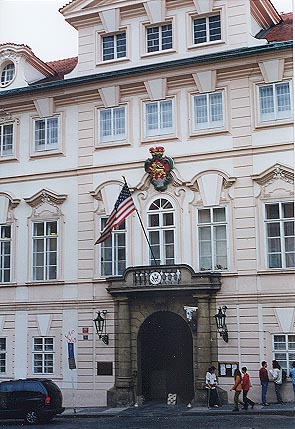 US Embassy in Prague


Over 350,000 American tourists come to the Czech Republic every year.

But while citizens of the United States do not need a visa to visit the Czech lands, Czech citizens still need a visa to enter the United States.


One of the stated reasons is that a lot of Czechs stay and work illegally in the US. By requiring Czechs to go to the US embassy in Prague for interviews before they can obtain a visa, US officials try to weed out those whom they suspect might not return to Czech when their allotted time as a visitor (usually up to 6 months) has run out.
The process is fairly simple although it can be a hassle, especially for those who live far from Prague. You download the application form from the internet, fill it in and fax it back to the embassy. You ring the visa office the next day and schedule an interview. Before your interview, you must pay the fees – CZK 2500 processing fee + CZK 185 for the return courier service – which you can do by bank transfer or at the post office or any branch of ČSOB bank. On the day of your interview at the embassy, you bring your completed application form with a photograph, receipts showing you have paid the fees and a few other things, depending on your situation (e.g. bank statements, proof of employment, etc). If you get the visa, your passport is returned to you later by courier. If you are refused a visa, you leave with your passport and can write to the courier company to have their fee returned to you.
The US State Department has said that when the visa rejection rate has been at 3% or less for two consecutive years, then the Czech Republic can become part of the visa waiver programme. The official rejection number coming out of the embassy is currently at 10%. One of my Czech friends said that she heard 30% on Czech television, but I would tend to believe the embassy in this case.
And the Czechs whine. It's not fair because US citizens don't need visas to come here…Most EU countries are part of the US visa waiver programme and their citizens don't need visas to go to the US – why do we?...It's a double standard, not fair, an injustice…
And to that, I say, shut the fuck up and live with it. Talking about a double standard is horseshit because Czechs can go to many countries without visas, whilst they require citizens of those countries to have visas to come here, e.g. Ukraine and Belarus. If you don't want to apply for a US visa, enjoy your visa-free holiday in one of those countries.
As Max's mom used to say whenever Max complained – "Who ever said life was fair?"