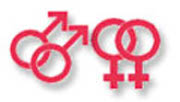 The Czech Republic would have been the first post-communist country to pass a same-sex registered partnership law, and I would have been very proud, but today President Václav Klaus vetoed the bill.
Klaus believes that giving legal status to same-sex relationships is somehow damaging to the traditional institution of marriage. I don't get it. The bill would have made life easier and fairer for homosexuals. They would have obtained rights of family members in such areas as medical notification, hospital visitation and inheritance. And while giving homosexuals some of the same rights that heterosexuals already have, no one would have lost anything, no one would have been hurt by it.
Aside from wanting to deny a significant proportion of the population certain state-decreed rights, Klaus said that the law was not a good idea because it would "expand the area of state regulation." Hmm, another politician talking out of his arse. Registering a same-sex partnership would not be compulsory; the law would merely give homosexual couples another option.
There is still a chance that the Senate will override the veto. We shall see…