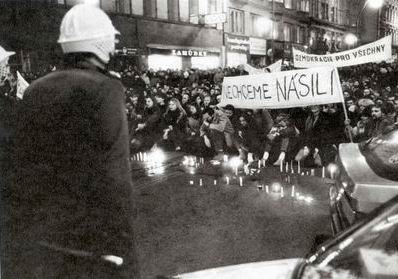 The 17th of November is a state holiday in the Czech Republic: The day of struggle for freedom and democracy.
17 November was declared "International Students Day" by the International Students Council in London in 1941. This is the background:
The Nazis had occupied Bohemia and Moravia from 15 March 1939. That same year, on the 28th of October (the anniversary of the independence of Czechoslovakia), there were anti-Nazi demonstrations and riots in Prague. In the course of the Nazi suppression of the demonstrations, Jan Opletal, a medical student at Charles University, was grievously wounded. He died on the 11th of November and his funeral was held on the 15th of November. Several thousand students attended Jan Opletal's funeral and the funeral metamorphosed into another anti-Nazi demonstration.
On the 17th of November 1939, the Nazis stormed Charles University, executed 9 students, sent over 1200 students to concentration camps and closed all the universities in Bohemia and Moravia for the remainder of the war.
Friday, 17 November 1989

The Socialist Youth Union had organised a demonstration for International Students Day. By 4 o'clock that afternoon, about 15,000 people had gathered near Jan Opletal's grave in Vyšehrad. The demonstrators marched down from Vyšehrad and along the river to Národní třída, a major thoroughfare in the centre of Prague. At about 7.30 in the evening they were stopped by riot police in Národní třída. The police had blocked all escape routes and the demonstrators, mostly students, were trapped. The police brutally beat the students, but then eventually allowed them to disperse. One of the demonstrators, Ludvík Zifčák, did not get up from where he was lying in the street. Thus the rumour of the dead student was born.*
The events of that evening were the catalyst for the Velvet Revolution.
*Ludvík Zifčák was actually a member of the secret police and had not been injured; to this day no one knows what his motives were.