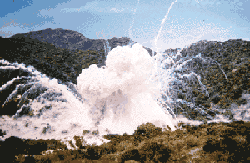 White phosphorus is a spontaneously flammable chemical which is used in war for illumination and smokescreens. Its use is prohibited for attacking civilians by Protocol III of the Convention on Certain Conventional Weapons. According to the BBC, the United States has not signed Protocol III.
I first saw pictures of children with horrific burns from white phosphorus last week. That was when the United States' use of chemical weapons in Falluja was still being reported mostly by alternative media.
The Italian state broadcaster, RAI, aired a documentary on 8 November (by now widely available on the internet in at least 3 languages) that had alerted a lot of people to the use of white phosphorus, and today the main US/UK etc big media corporations finally reported the information.
Yesterday the Pentagon admitted using white phosphorus
as a weapon
, but they have denied breaking the convention on the use of chemical weapons and they have denied using the chemical against civilians. But while the Pentagon admits one thing and denies another, we must bear in mind that before yesterday they had only admitted using white phosphorous in Falluja to create smokescreens. The attack on Falluja was one year ago.
White phosphorus is not categorised as a chemical weapon because its primary use is for illumination. However, when a chemical is used as a weapon, which use the US has just admitted, it must then be considered a chemical weapon. Or is that too simplistic?
I would like to believe that the US military did not target civilians when shooting white phosphorus shells, but I do not. Anyway, the bottom line is that the US military used white phosphorus as a weapon
in a town
where there were civilians. They will of course call the civilian casualties "collateral damage," but I do not buy into that concept. Our military went into Iraq on the pretext (one of many) of preventing Saddam Hussein's military from using chemical weapons. There is something very wrong with this picture.
* * * * * * * * * * * * * * *
Monkey has just sent me a very informative article about the use of chemical weapons in Iraq:
This briefing examines the continuing use of incendiary weapons ("napalm") by the US military in Iraq. While the UK government has attempted to downplay or deny the use of incendiaries in Iraq, US officials have been forced to admit using the MK-77 incendiary, a modern form of napalm. The UK is party to an international convention banning such weapons where they may cause harm to civilians. In Iraq, UK forces are part of a coalition which does not adhere to internationally agreed standards of warfare.Iraq Analysis Group, March 2005
http://electroniciraq.net/news/1928.shtml